Rememberance 2016 page.
Rememberance 2015 page.
Rememberance 2014 page.
Rememberance 2013 page.
Rememberance 2012 page.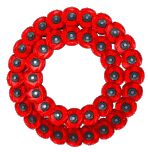 The Poppy Appeal runs all year round - funding homes, grants, facilities for the disabled,
 resettlement training, care for the homeless, care for the vulnerable, 
Remembrance travel and many other aspects.
The Poppy Appeal has a very wide perspective
We still remember the death of Darren Hicks (1st Battalion, Coldstream Guards) in Afghanistan in 2010 

Three photographs above. taken on our recent visit to the National Memorial Arboretum.
The gap has been constructed in such a way as to throw a shaft of sunlight
across the area on the eleventh hour of the eleventh day of the eleventh month.