Mousehole RBL Photofile Book now online to view
Housing and Financial Guide for Veterans
   When a member of the British military retires from active service and returns to civilian life, the adjustments required can be significant. Unmarried soldiers with no children may have no dependents, but if they have been serving overseas the idea of finding a new home via a private let can be somewhat daunting.
   Equally, many of the men and women of our armed forces may have been living in Service Family Accommodation and now find themselves seeking a roof over their heads for themselves and their families. This guide will offer advice that can make the transition from serviceperson to civilian as smooth as possible.
 https://businesscostsaver.co.uk/guide-for-veterans/

June 2019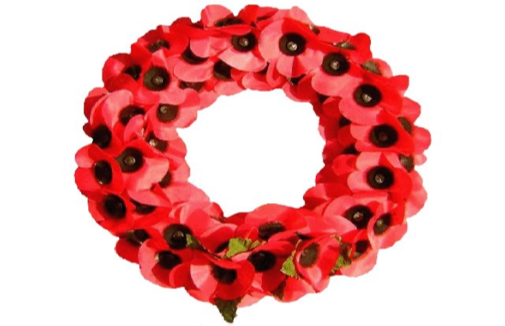 Mousehole Royal British Legion
Will be laying a wreath on the "War Memorial"
To commemorate the 75th anniversary of the D-Day landings
On Sunday 9th June @ 11:30
May 2019
   Jack Guard Photo competition
Mousehole Branch Royal British Legion are running a photographic competition as a 
tribute to Jack Guard who was a member of the RBL for over 80 years, many of them in 
Mousehole, holding the office of president for 3 of those years.
Jack was a keen, prolific, photographer, and film maker, for a great many years.
There will be 3 categories; Harbours, Seascapes, and Landscapes.
The competition will take place during May 2019 with judging on Saturday 22nd June in the
Clubroom at 8pm. Closing date for photos Friday 31st May 2019.
The pictures will be judged by Sue Guard, Simon Maycock, and Michael Ellis
 £5.00 per application, under 18`s £3.00 maximum of 3 pictures per applicant.
 3 photos in same category, or a mix of categories
The winning name will go on a shield which will be kept in the Branch, and the winner of the best
picture in each category will get a trophy and cash prize 
Competition open to members and their children under 18 years
Pictures from drones will not be accepted, hand held devices only
Application forms available from the bar staff.
Proceeds to "The Poppy Appeal"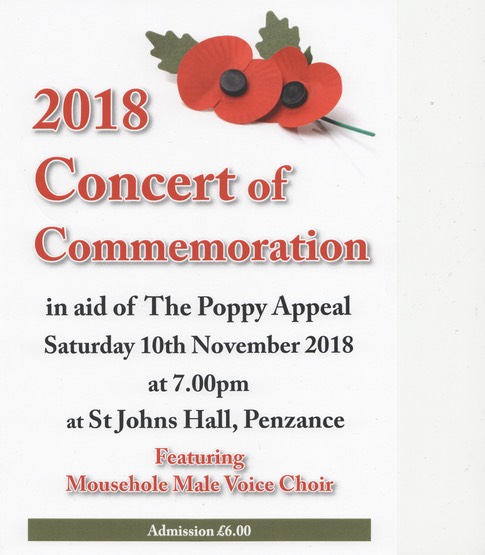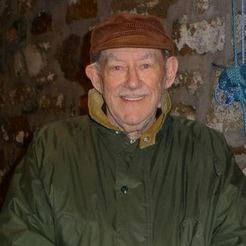 (Jack) John James Guard
Who passed away on Monday 20th August 2018 Aged 98 years
Will be sadly missed.
Jack joined the RAF at Cardington in Bedfordshire in 1940. With a trade of Flight mechanic ( engines ).he was stationed at Marham in Norfolk and Marham Decoy from July 1940 to April 1942 which was a dummy airfield to tempt enemy bombers away from the main base of Marham. Duties there involved continually moving dummy aircraft around and one crazy airman who drove down the simulated runway at night with lights on pretending to be a plane landing.
Then he went to EGYPT. 
Battle of Passchendaele: 31 July - 6 November 1917
Sunday 30th July the branch is laying a wreath for Passchendaele, followed by refreshments
in the club-room, later on at 14:00 "Funny Feathers" is playing Jazz for a couple of hours.

This year, The Royal British Legion will mark the 100th Anniversary of the third Battle of Ypres – The Battle of Passchendaele.
Paul Church is given £254k by lottery.
A WEST Cornwall church has been given more than a quarter of a million pounds for a stained glass window restoration project.
St Pol de Leon Church, in Paul, has received a confirmed grant of £254,000 from the Heritage Lottery Fund in recognition of its work in "celebrating peace" through the restoration of its significant First World War memorial window.
The project aims to restore a unique stained glass window, designed by Robert Anning Bell in memory of Torquil Bolitho, who was killed during the Second Battle of Ypres in 1915.
The sad news is that Don Kidd passed away very suddenly 
on 25th April 2017 (1935-2017)
A tribute to Don can be viewed here
The centenary of the Battle of Jutland is being commemorated in 2016. The Legion is encouraging communities to organise their own local commemorations to complement the National event being held in the Orkney Islands. Visit our Jutland 100 page to download a toolkit to help you arrange an event near you. 
So sorry to learn of the death Nov 2015 of Mike 'Butts' Buttery of Mousehole.
Jack Guard R,I,P PAL a great friend since 1961 .. when he first arrived with his partner from Poole in Dorset He did a lot for Msle in more ways than one .started the west penwith darts league / snooker / wrote documentaries ... and carnival programmes / he will be sadly missed by many locals [ but not all ? ]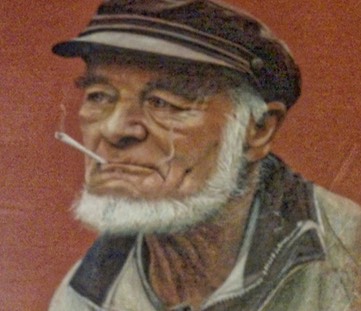 PAINTING BY NIGEL HALLARD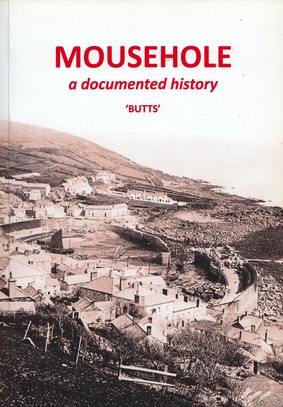 Remembrance November 2015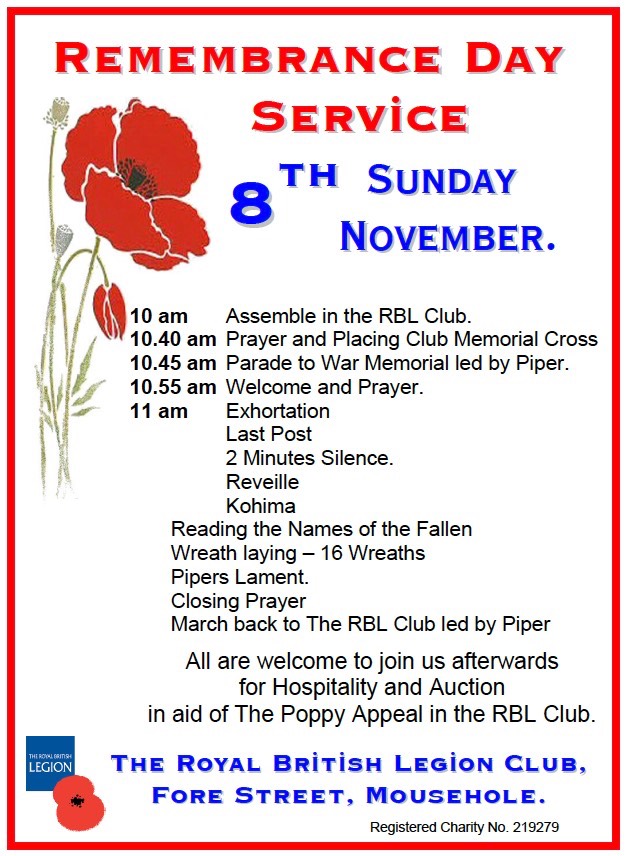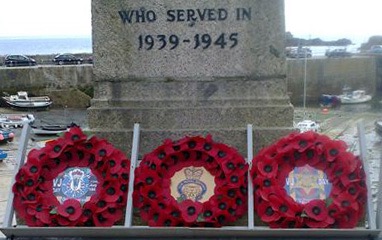 Mousehole Branch Royal British Legion

To mark the 70th Anniversary of Victory in Japan Day, Mousehole Royal British Legion will lay 3 wreaths on the War Memorial 
Sunday 16th August at 12:00
There will be a short service; the Exhortation, followed by a silence, and the Kohima.
Rededication of Bastion Memorial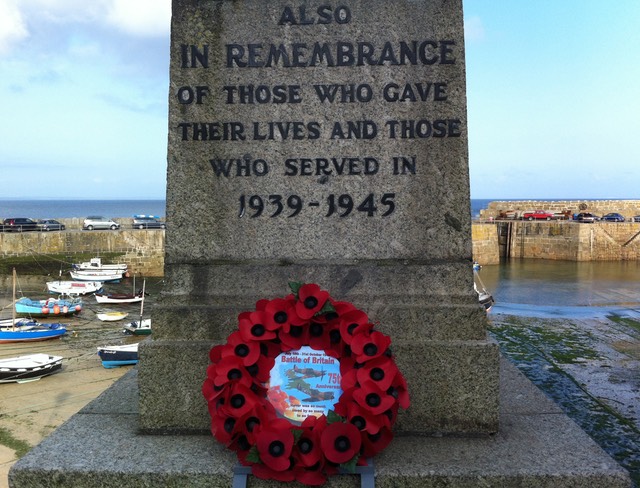 Joseph Trewavas VC 160th Anniversary 3rd July 2015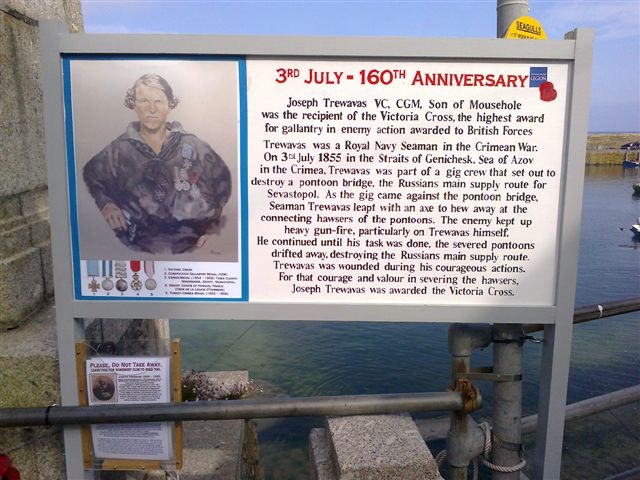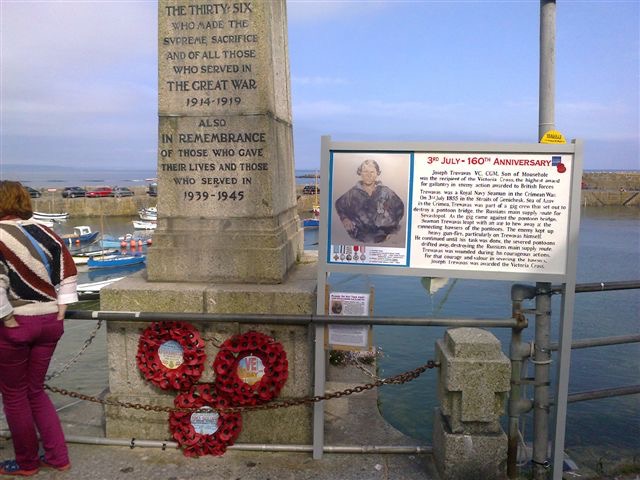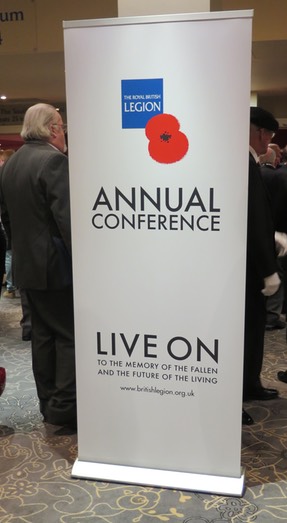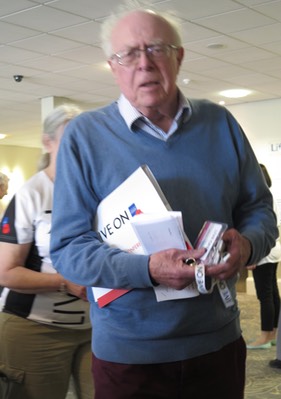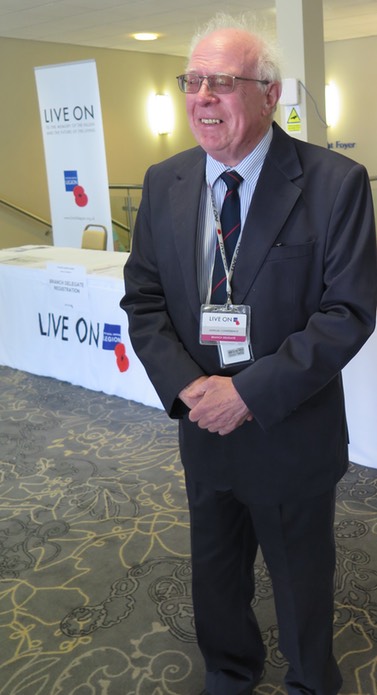 100 years ago on the 13th May 1915 We remember the lose of five men from Mousehole . When HMS Goliath was sunk at Gallipoli.
John Blewett, William Harry, Everett Richards, Mark Wallis, Richard Wallis.
We will remember them.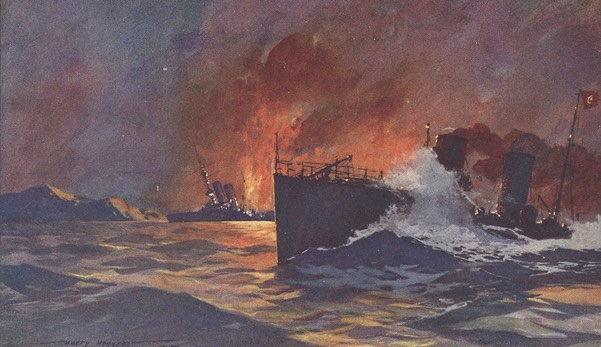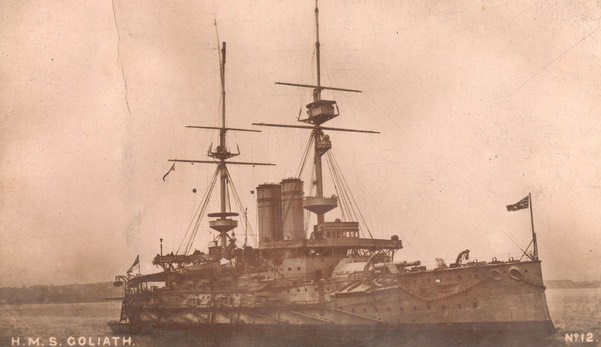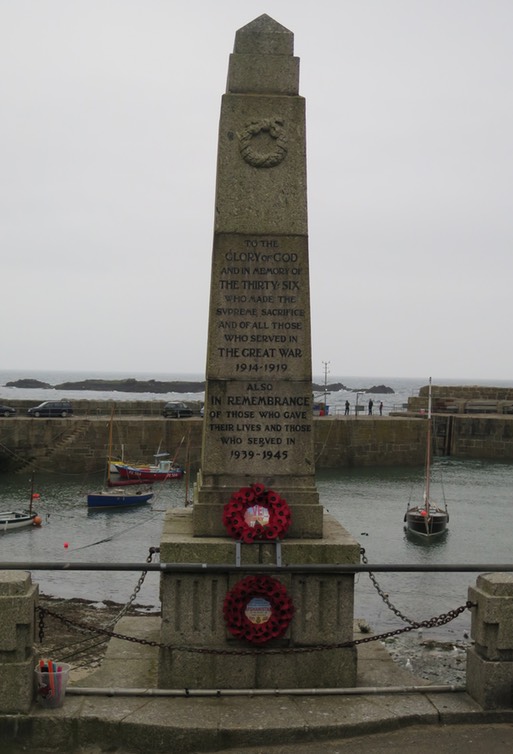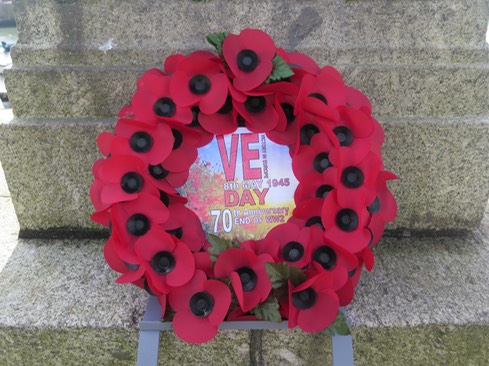 Mousehole Branch Royal British Legion
 To mark the 70th anniversary of Victory in Europe day 
Mousehole Royal British Legion will lay a wreath on the War Memorial Sunday 10th May at 12:00
  There will be a short service; the Exhortation, followed by a silence, and the Kohima.
 Please feel free to attend this commemoration.
Exhortation
They shall grow not old
As we that are left grow old
Age shall not weary them
Nor the years condemn
At the going down of the sun
And in the morning
We will remember them 
We will remember them
Kohima
When you go home
Tell them of us and say
For their tomorrow
We gave our today
 Some notes concerning Legion Hall HQ 
MOUSEHOLE BRANCH ROYAL BRITISH LEGION
Now on Line and in Hall
Making the poppies - The Tower of London Remembers
Published on Aug 21, 2014
Extended version of our latest TV ad for the Every Man Remembered campaign asking the public to remember all Service men and women from the Commonwealth who died in the First World War. Commemorate at: http://bit.ly/EMRWW1
War veteran Edwin Jeffery honoured
MOUSEHOLE war veteran Edwin Jeffery is used to having a chest full of medals.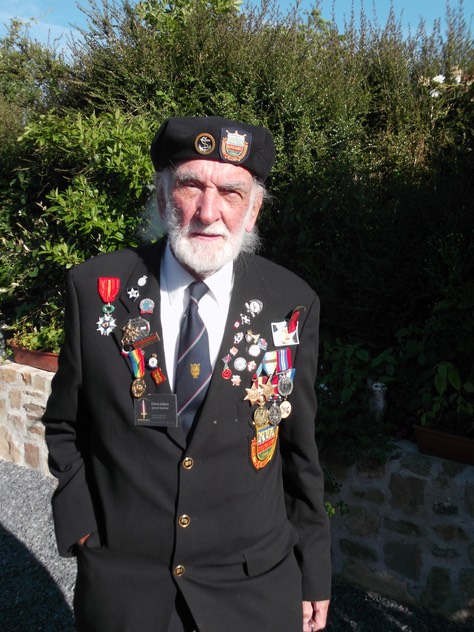 But this year the 91-year-old – who 70 years ago this week was part of the D-Day landings in Nor- mandy – has a little extra weight on his lapel.
The Royal Navy veteran was presented with the Legion d'hon- neur on Thursday – France's highest honour – in recognition of his part in liberating Europe from the racism, bigotry and intolerance of the Nazis.
The presentation took place as the eyes of the world were on Nor- mandy, and particularly Arro- manches, the small town at the centre of Gold Beach, one of five allied designated landing areas.
After the ceremony, Edwin, whose daughter Charlotte, originally from Morrab Road in Penzance, is with him in France, led one of the commemorative marches of veterans.
Published in the Cornishman  June 2014
From battlefield to buttonhole: the poppies made of shells
Shells fired on the Western Front are to be turned into commemorative "poppies" by the Royal British Legion to mark the centenary of the outbreak of the First World War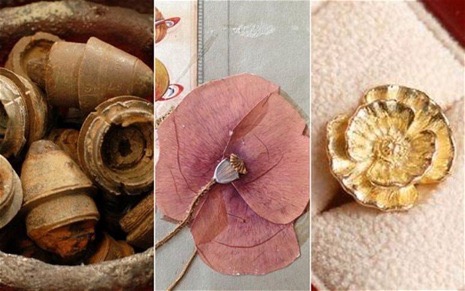 From left: brass fuse caps, Pte Smith's poppy and the British Legion memento 
By David Williams.
Almost a century after the guns fell silent on the Western Front, the shells that they fired are being returned to Britain in a remarkable act of remembrance to mark the centenary of the outbreak of the First World War.
Hundreds of brass fuse caps, which were primed to detonate on impact with enemy targets, lie scattered along the 450-mile former front line.
Now the once-deadly objects are finding a peaceful new lease of life − as commemorative "poppies", struck by the Royal British Legion.
The conical 1lb fuses, once produced in their millions by munitions workers in Britain before being shipped to France and Belgium, are being melted down in a furnace in the Midlands at more than 1,000 degrees centigrade.
The molten metal is poured into elaborate clay moulds in a painstaking procedure known as the "lost wax" process. When the metal has cooled the moulds are broken open to reveal the crisp, ornate, golden-coloured poppies that are handcrafted into cufflinks and lapel pins.
Each one is polished, before being engraved by the Assay Office with the dates 1914-1918 and presented in velvet-lined wooden boxes with a certificate of authenticity.
The Royal British Legion will put the mementos on sale in June in time for the centenary of Britain's declaration of war on August 4, 1914.
It hopes that many of its 350,000 members, as well as thousands of members of the public, will buy the poppies to raise money for its work supporting serving and former Servicemen and women.
"I stumbled across the idea when researching a book into historic artefacts still visible on the Somme and in Belgium," said Christopher Bennett, who founded TMB Art Metal, a London firm which specialises in creating jewellery and works of art from the parts of cars, trains and aircraft.
TMB was formed in 2005 following the excavation of a Battle of Britain Hurricane fighter which crashed into Buckingham Palace Road in 1940. Parts of the aircraft were made into limited edition sculptures.
Brian Gray, the Royal British Legion's Poppy Shop buyer, said: "These poppies really are special. For us they are a direct link right back to the battlefields. It feels like reaching out and touching history.
"What is most remarkable is that these objects were created for war but are now being turned into an act of remembrance that will help the Legion and its dependants. It's turning evil into good."
The design for the lapel pins and cufflinks, which are 1.5cm across and weigh 5g each, is based on a poppy sent back from no man's land in 1915.
It was preserved by Private Len Smith, who kept an illustrated diary documenting his exploits during the First World War, which was published in 2009 under the title Drawing Fire.
The flower was sandwiched between the pages of the book and preserved. Pte Smith's descendants agreed that it should be used as the basis for the Royal British Legion project, and a delicate master sculpture was handcrafted by York-based artist Stephen Allen.
All profits from the sale of the poppies will go to the Royal British Legion. Mr Bennett has agreed to recover only the costs incurred in producing the objects.
He plans to follow up the initial design with special editions marking each year of the conflict.
"Considering that they are made of 100-year-old corroded detritus that has lain undisturbed on battlefields for so long, the transformation into beautiful poppies − looking for all the world like 18ct gold − is astonishing," said Mr Bennett. "It has been an immense privilege to produce them and to work with the Royal British Legion."
The poppies go on sale at the beginning of June through the Royal British Legion's website: poppyshop.org.uk